Cedar Rapids Towing &
Roadside Assistance
 Live 24/7 Roadside Assistance Service
Towing Roadside Assistance Cedar Rapids
Cedar Rapids Towing & Roadside Assistance
We at Cedar Rapids Towing & Roadside Assistance company prides itself on its long history of providing fast, efficient, and affordable auto repair, towing and roadside assistance services to the residents of Cedar Rapids, IOWA and its environs. We're fully bonded and insured, and our staff consists of professional dispatchers, mechanics, and technicians, all of whom were trained to promptly and safely fix problems ranging from a simple jump-start to a heavy-duty tow. The word "impossible" does not exist in our lexicon, and that's why thousands of drivers in Cedar Rapids and its environs call Cedar Rapids Towing & Roadside Assistance for their Mobile auto repair, towing and roadside needs in Cedar Rapids, Iowa.
Get A Quote
DELIVERS THE BEST
OUR SERVICES
CEDAR RAPIDS TOWING & Roadside Assistance

Car Towing
You'll enjoy the quick and convenient process of having your vehicle in the hands of Cedar Rapids Towing and Roadside Assistance
Hail Damage
Hail damage could mean dents and dings in your car's body, cracked or shattered glass, and even interior water damage. Allow Cedar Rapids Towing & Roadside Assistance.
Flood Insurance Coverage
Flood insurance covers losses directly caused by flooding. No you dont need to worry when Cedar Rapids towing & Roadside Assistance is in your state.

Unfornunate Accident
It is very unfortunate to met with an accident but there is a service to help you with that. Call anytime to Cedar Rapids Towing & Roadside Assistance.
Engine Fire
Got Fire! While driving is possible to get a fire at engine. Cedar Rapids Towing & Roadside Assistance is always there for you.
Motorcycle Towing
Thinking about, how to carry your motorcycle to one place to another. Call us for an easy way with experienced people to serve you better.
WHY CHOOSE US?
Fast Roadside Towing Cedar Rapids
Our company is your number one choice for your towing needs, but in addition to that, we also provide mobile mechanic services. If you happen to find yourself stranded with a broken car anywhere in CEDAR RAPIDS, we can help you. We will send a licensed mechanic to whatever location you might be in. Then, they will promptly analyze the situation and tell you exactly what the problem is.
The mobile mechanic services cover a wide range of problems. We can help you change your wipers, as well as thermostats and spark plugs. Whatever the problem may be, be sure that we can deal with it. Our mechanics also carry a substantial amount of replacement parts in their vans, so we can even provide you with replacement of faulty parts right on the spot.
Mobile Mechanic CEDAR RAPIDS, IOWA
Towing Roadside Assistance Jumpstart Flat Tire Service
Cedar Rapids Mobile Mechanic is your first and only needed call when looking for reliable mechanics in Cedar Rapids and surrounding areas. We know our stuff, we're fast, we're friendly, and most importantly, we're HONEST and affordable. We're proud to say that our mobile car repair service offers one of the best deals in and around the city. In fact, our mobile mechanics are often less expensive than the more traditional auto repair shops in Cedar Rapids, because we're able to keep our overhead low which allows us to pass those savings onto you.
Whether you need a scheduled car service, are broken down on the interstate, pre-purchase vehicle inspection.
Auto Repairs In Cedar Rapids That Come To You
If you're suffering from a broken down vehicle at your home, office or in the middle of nowhere, then save yourself the worry and call our mobile automotive repair technicians and we'll bring the workshop to you and get you moving again quickly and affordable. We've listed some of our most common mobile auto repair services below, but if the service you're after isn't listed, don't worry. We cover car, truck, caravan and machinery repairs across the board, so give our friendly mobile auto mechanics a call to discuss what you need. We work on all makes and model from gas to diesel such as cars, trucks, and light machinery. If it's got a motor, we can fix it. Best of all, our mobile mechanics come to you, wherever you are in the Cedar Rapids area. In addition to Cedar Rapids, our automotive mechanics also look after clients in surrounding cities up to 120 miles away.
4WD service and repair
A/C conditioning repair
Air filter
Alternator
Belts
Brake repair and suspension
Breakdowns
Car battery replacement
Clutch repair
Computer diagnostic
Diesel and gas
Electric window repair
Exhaust system
Flat tire change
Fuel injection or carburetor
Gaskets
Hoses
Hydraulic
Lockouts
Logbook servicing
Major car service
Minor car servicing
New car service
Pre-purchase inspection
Preventative car maintenance
Radiator repair
Roadside assistance
Shocks
Starter
Struts
Timing Belt
Tire changes
Transmission service and repair
Tune-ups
Vehicle safety check
Check engine light diagnostic
Pre-Purchase Vehicle Inspection Cedar Rapids
We should never judge a book only by its cover, and the same should be applied when you're buying a used car. Even if the vehicle has low miles and no scratches, you shouldn't buy it until you've had it thoroughly checked by Cedar Rapids Mobile Mechanic. We worked on a car last year where our unfortunate customer had purchased a car based on appearance and the sellers 'honest truth.' But within a few months, their car turned into a huge lawn ornament, requiring thousands of dollars in auto repairs.
We strive to make pre-purchase car inspections as easy as possible for both the buyer and seller. Our mobile mechanics will come to your location and inspect the vehicle from top to bottom. Some of the things we'll look for a find include:
Verify the current condition of the car
Any problems that may arise in the future
Body, frame, and engine condition
Previous repair work check
As you the buyer, the outcome of your pre-purchase car inspection will help determine whether buying the vehicle is a good idea or not, and possibly saving you thousands of dollars in car repairs in the long run. Our Popular Roadside Assistance Services Will Get You Moving Again Quickly!
Battery Replacement And Jump Starts Cedar Rapids
One of the most common roadside assistance call outs is for car battery replacements and jump starts, but if you're not a member then their call out fee can be outrageous! Here at Cedar Rapids Mobile Mechanic, we don't charge a membership fee or sign-up fee to come to you, so give one of our emergency mechanics a call to save on roadside assistance fees. We can jump start your vehicle, or if the battery is beyond salvageable, we'll install a new car battery and get you moving again.
HELP CHANGING A FLAT TIRE
You opened the trunk looking for your car's jack and, but it's not there, don't panic, take a deep breath, sit down and give one of our affordable mobile mechanics in Cedar Rapids a call. We both know it isn't rocket science changing a tire, but under stressful and sometimes dangerous conditions, (like the side of highway at rush hour) it can prove to be challenging, especially if you don't have the right tools. Our roadside mechanic will show up promptly and change your tire safely to get you and your vehicle back on the road in no time.
Feeling Hot, Hot, Hot?
If your car has overheated, pull over in a safe place (i.e., not in the center lane of the highway) and turn the engine off. Now we don't mean to rag on roadside assistance, and surely you can call them to help, but if you're not a member, then you're going to pay some serious money to have them show up. Or you could call a towing service in Cedar Rapids to get you towed to your nearest auto repair shop, but again that's money for the towing company and more money for the auto repair mechanic. Instead of all that, give Cedar Rapids Mobile Mechanic a call.
Towing & Roadside Assistance In Cedar Rapids, IOWA
We offer an extensive range of towing & roadside assistance services provided by our reliable staff in Cedar Rapids. No incident is too small for us, we do it all and we make sure that what we do will be done the best way possible. our goal is to let the people of Cedar Rapids feel they have their back covered. Save our number and call us 24/7, we will be at your side.
HOW TO CHOOSE THE RIGHT TOWING COMPANY?
Getting into an accident is definitely not a pleasant experience. Add having to find a towing company when you're still distraught from your predicament and you're in for a dubious treat. Most people don't take the time to find a decent towing company before they actually need one. However, in order to save yourself the trouble of having to find one when it's least convenient, we'd recommend doing so.
Towing Services In Cedar Rapids IOWA
Every day, Cedar Rapids Towing services send out its fully bonded, licensed and insured drivers to stranded drivers in Cedar Rapids and its environs. 10 Cities within 30 miles of Cedar Rapids, Iowa Our tow trucks are equipped with the most advanced GPS and vehicle recovery technology, allowing our drivers to get to you in the shortest time possible. Cedar Rapids Towing & Roadside Assistance is available 24 hours a day.
Professional Towing Company in CEDAR RAPIDS, Iowa
24-Hour Towing
Wrecker Service
Heavy Duty Towing
Cheap Tow Truck Service
Tow Truck Service
Flatbed Towing
Tow Dolly
Emergency Towing
Oil Change
Long Distance Towing
Accident Removal
Roadside Assistance
Battery Jump-Start and Installation
Flat Tire Change
Gas Service
On/Off-Road Winching
Lockout Services
Motorcycle Towing
The best way to find a good towing company is asking a question. You should ask your family and friends – some of them will probably have gained some experience when it comes to towing companies. Next, try contacting the companies recommended to you and learn what you can about them. Some of the more important issues are listed below.
Certified Cedar Rapids Towing & Roadside Assistance Services
Cedar Rapids Towing & Roadside Assistance knows what it's like to be stuck on the side of the road. It can be exasperating and frightening all at the same time. When your vehicle suffers from one mechanical failure or another such as an overheating engine or a flat tire, leaving you stranded, that's when you need timely roadside assistance from us. Our tow truck drivers are able to provide you with the help you need, and if for any reason they're not able to repair your vehicle's problem then and there, we have the resources to get your vehicle towed to a place where it can be fixed.
We provide the following Auto assistance services:
24 hour roadside assistance
Fix flat tire
Ignition key removal
Auto mechanic services
Tow vehicles (truck tow, car tow, motorcycle tow)
Jump Start
Car replacement battery
Out of Gas Refuel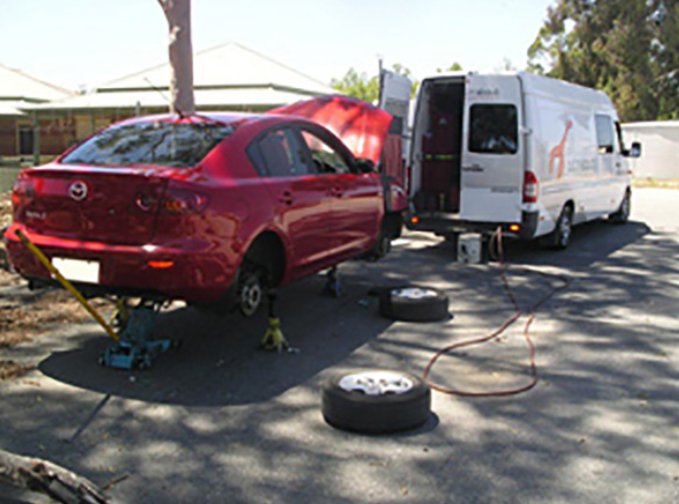 We know that breakdowns are difficult and inconvenient, so our considerate, professional technicians will be there to help, day or night. In fact, Cedar Rapids Towing & Roadside Assistance customer service representatives and technicians are ready 24 hours a day to provide instant care. Moreover, our trained drivers make quick and accurate appraisals of your vehicle's damage once they arrive on the scene. Essential repairs are made, and you save money on fees associated with towing and garage storage.
Our Long Distance Towing Services – Done by Professionals
Are you tired of waiting around all day for a towing? Cedar Rapids Towing & Roadside Assistance totally sympathizes with you. Our motto is always to arrive on time, and believe us, timing is everything! All you need to give us is a time deadline and a destination, we'll take care of the rest. Contacting a trustworthy towing company has never been this easy before. We truly take the burden out of the long distance towing trips. If you need a towing across the city or across the state of IOWA, just give us a call and we'll pencil you in for a convenient time and date!